What is there, really, to say about London that hasn't already been said? This "ancient, jammed knot," stuffed to the brim with museums, historical landmarks, cars, lorries, doubledecker buses, and bowlerhatted cabs?
Still a worldwide symbol of all things British, London nonetheless is truly international. Stroll down any street and (tourists notwithstanding) your ears will be greeted with a polyglot sampling. Or take a ride on the Underground ("Mind the Gap!"), mashed together with a hundred different nationalities.
London is, I think, best left to personal experience. I could stroll you past the Crown Jewels in the Tower, let you hear the ravens croak in the yard, or sweep you along the treelined boulevard toward Buckingham Palace. But they're all just words. What few sights I select would reflect only the merest sliver of this grand landscape.
Santa In London
Santa doesn't spend much time in London. We're exposed to the town just long enough to be overwhelmed by frantic drivers whipping about and somehow all managing to miss each other by inches.
The hotel where Santa and Roxy stay is based upon a charmingly frumpy place I called home during a brief stay in England some years ago. While the hotel restaurant did try to modernize its decor by creating thoroughly '70s atmosphere (I kept looking for lava lamps), my room had the cozy feel of a seen-it-all before lodging. I'll refrain from naming the place, in case "frumpy" is a word the establishment preferred not to be in the description.
As you might expect, there are more links to sites describing London-area attractions than there are for, say, Posen. But then, London's been around a bit longer than Posen has.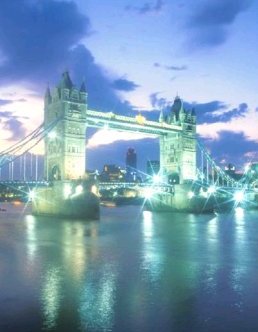 London's Tower Bridge at Night