Here are three ways to experience New Orleans:
During Mardi Gras, with about 50 million other people
Through the pages of John Kennedy Toole's comic masterpiece, A Confederacy of Dunces
In the dead heavy heat of August
I'll leave the documentation of Mardi Gras to others. However, many of you may be unfamiliar with A Confederacy of Dunces, the brilliant, wacky, gloriously sidesplitting novel by John Kennedy Toole. Mr. Toole's short life (1937-1969) tragically ended when he took his own life, and it wasn't until some eight years later, in 1976, that his unpublished manuscript was pushed into the hands of one Walker Percy by Toole's faithful mother.
The rest is, as they say, history. If you read only one funny book in your lifetime, this is the book you should read. As Percy states in his introduction the novel, the great "tragedy is the body of work we have been denied." But the gift is that we have this book to enjoy.
Read an affectionate review by Meredith Renwick, or order the book through Amazon.
New Orleans Heat
In Santa, CEO, Santa visits the city in August, when the region labors under the heat and humidity of the late-summer Gulf. On those hot days, the best time to enjoy the city is either at night (Bourbon Street is always wild, no matter what) or early in the morning, when the air is cooler and the tavern owners are busy hosing off the sidewalk in front of their shops.
Early morning is a great time to stroll the length of the French Quarter and down to the market area, or to take in the barracks and the Cathedral, or just to stroll the waterfront.
If you're so inclined, you can follow in Santa and Roxy's footsteps and take one of the many bayou tours that are offered. You'll experience the heat and decay so natural to this part of the world, and you should have no difficulty cozying up to an alligator or two.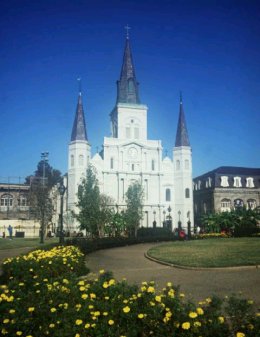 St. Louis Cathedral
Food!
French Quarter cuisine is of course marvelous, Cajun cooking not to be missed. You can get anything from simple fare, jambalaya to wake up your taste buds and étouffée to satisfy your craving for crawfish. Or, if elegance is your preference (and money is no object) visit Arnaud's and be sure to order the cherries jubilee.
Follow That Sleigh!
There are tons of sites on New Orleans and Mardi Gras. Here's a sampling: